Hey, today we meet again. Virtually. Ehehe. So our today's topic is about Ansara. Who knows what ansara is, raise your fingersss ! Ahahaha. Easy to raise your fingers right? I know about ansara. Okay, not really. Hehe. Hmm, apehal tetiba pasal ansara pulak ni kan. So baca dulu okay.
Ansara is singkatan for Anak Sains Mara, so it becomes ansara. Mostly senang cerita its like a group ex MRSM and boleh jugalah student MRSM. Ehehe, okay still the same things. So its like macam nak gatherkan balik ex student Mrsm ni yang terpisah lepas spm. Like alumni. If like ada apa-apa event nak buat within mrsm, this is one of the platform. Platform? Macam tak kena je haha. Like one of the function la kot kiranyaa.
Like baru-baru ni dalam bulan Februari Karnival Syoknya Ansara 2016 telah diadakan di Kompleks Sukan GMI Bangi dan tempat di sekitarnya. Last day sabtu ahad lepas which is 27 & 28 Feb 2016. Banyak acara yang telah dipertandingkan antaranya :
-Catur
-Futsal
-Bowling
-Bola jaring
-Hoki
-Rugbi
-dan sebagainyaaa.. nah cer tengok gambar bawah ni. Kalau kecik besarkan ye.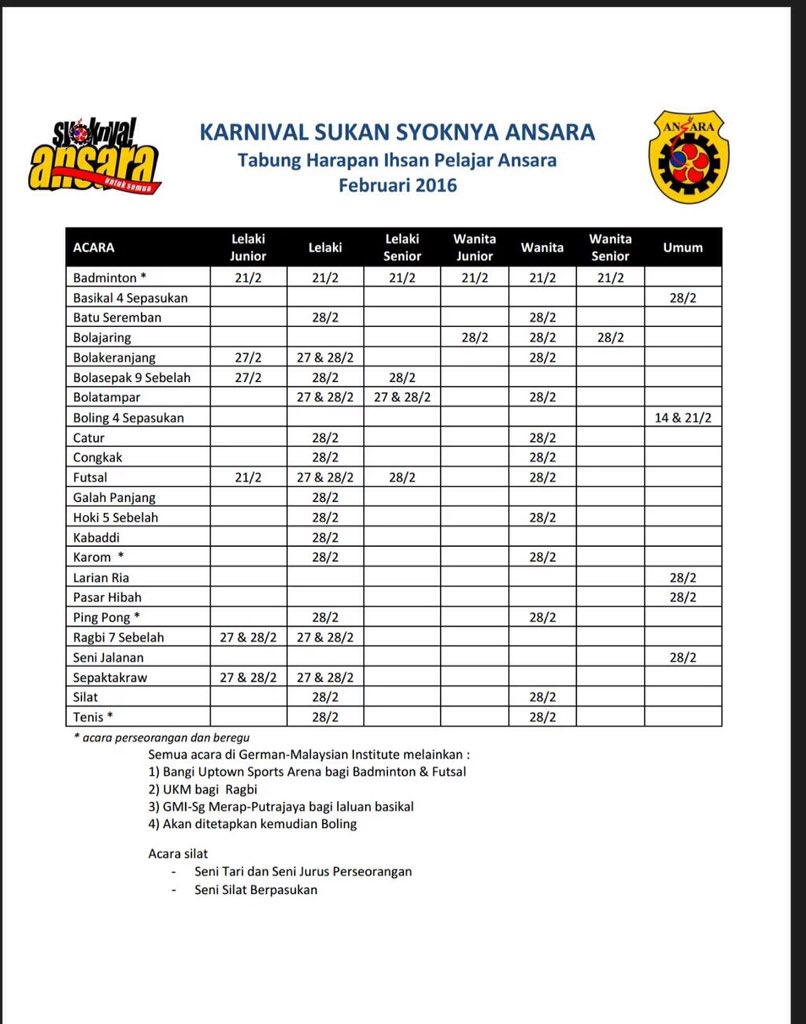 Banyak games yang dipertandingkan. Sukan ansara ni bukan sahaja untuk fitkan badan, tapi salah satu cara or platform untuk ex-ex mrsm ni berkumpul semula and jumpa balik geng-geng lama. Time inilah duk hugging hugging kawan besties musuh semuanya la. Seronok sukan ansara ni, lagi-lagi yang minat sukan macam aku ni haa. Cehh tapi tak masuk and tak pergi pun ansara tuuu. Sis hanya mampu lihat dari jauh je. Huhu. Sedihh. Lama tak rasa burn sebab sukan. Hahaha. Okay mestilah tak nak burn.
Oh and might be some of us yang disappointed cehh. Sebab this time sukan ansara tak ada buat olahraga punya sukan so yang kaki-kaki larian lompat-lompat baling-baling ni tak dapat la nak menunjukkan bakat mereka, including me. Cehh piirahh. Bajet gila kan hahaha. Tapi yeah seriously, aku suka tengok sukan-sukan macam ni. Yang macam ada related dengan aku. Hmm. Sumpah macam bajet gilaa. Haha. Macam aku, aku memang ansara, bukan celup celup punya eh ! Sis ansara gemencheh.
And once again, sorry aku takde nak letak gambar bebanyak nak share pasal sukan ansara ni, and thought nak letak gambar kawan aku yang pergi. Geng-geng ansara celup huhu. But yeah prob ah fon ni. Hmm. So you guys can google too (hahaha), go for twitter or instagram. Just find @syoknya ansara and you will find it. Taiplah apa-apa, ansara, sukan ansara, syoknya ansara. There you will find. Tak jumpa tell me. Cehh haha.
Okayy so this is the end. Later I'll come out with another story pulak for the next entry. So anak-anak ansara yang belum follow twitter or instagram ansara, haa pi cari nahh. Jangan cari ja, follow sekali okay? Hehe. Till we meet again :)